School Grants and Awards Program
Highmark Foundation is pleased to present a transcript of the School Grants and Awards program webinar held on January 13, 2022. Each segment is recorded separately to allow you to watch all or part of the webinar. For questions or more information, please contact Jane Brooks at jane.brooks@highmark.com.
American children spend a minimum of 940 and 1020 hours in school each year, which means schools can and must be the foundation for system-wide improvement in children's health.
Our Involvement
Supporting schools that show a strong focus on adopting best practices has been one of Highmark Foundation's long-standing, overarching goals. The Highmark Foundation works in partnership with schools and communities to determine what changes made within schools will bring about system-wide improvement to children's overall health.
Between 2006 and 2011, through the Highmark Healthy High 5 School Challenge, the Highmark Foundation awarded nearly 13 million dollars to schools throughout communities served by Highmark. Hundreds of school-based programs addressing nutrition and physical activity were developed and implemented with this aid. Since then, the Highmark Foundation has continued to provide substantial technical assistance and grant funding to schools and school districts to promote lasting, positive changes in school environments.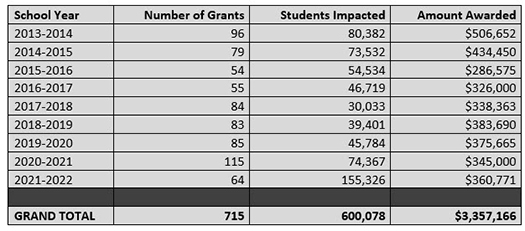 Our Goals
Highmark Foundation is a recognized leader in providing grants for schools and community-based organizations to address critical health issues affecting children. The overarching goal of our School Grants and Awards program is to provide support and resources that empower schools to take greater strides in improving child health and wellness.
The Foundation maintains and seeks to broaden this commitment by providing support to school districts and schools at the individual building level. Opportunities the Foundation seeks to fund include:
Professional development programs that impart timely knowledge and know-how that school leaders and others need to take student wellness efforts to the next level. For example, the Highmark Foundation School Lecture Series, approved for continuing education credits, provide fast-track learning for those interested in adopting best practices and evidence-based approaches to school health and wellness.
School recognition initiatives that highlight and acknowledge schools for making lasting, systemic change. Exploring incentives and formal recognition opportunities to foster impetus among schools to increase and deepen their efforts.
Resources and tools that can help schools implement strategies to improve children's health.
Publication and dissemination of research to inform schools about the effectiveness and impact of our work and best practices.
Positive School Climate
Evidenced based strategies that help to create a positive school climate and culture, in areas such as trauma, school disconnectedness, and equity, have become the focal point for many schools. In an effort to assist schools with improving their overall school climate, Highmark Foundation will introduce the Positive School Climate category in place of its traditional bullying prevention category. Research suggests that a sustainable, positive school climate fosters youth development and learning necessary for a productive, contributing and satisfying life in a democratic society. Programs supported under this category may include traditional bullying prevention programs, mindfulness programs including "Chill Rooms", social-emotional learning programs such as self-awareness, self-management skills, responsible decision making, and more. Applications must demonstrate how the program is part of a larger systemic school climate effort.
Environmental Health
Factors that influence the physical environment include the school building and surrounding areas, any biological or chemical agents that are detrimental to health, and physical conditions such as temperature, air quality, safe routes to schools, noise and lighting, and fresh drinking water. A healthy environment includes the physical, emotional, and social conditions that affect the well-being of students.
Healthy Eating and Physical Activity
Engaging children and adolescents in healthy eating and regular physical activity can lower their risk for obesity and related chronic diseases. The dietary and physical activity behaviors of children and adolescents are influenced by many sectors of society, including families, communities, schools, and health care providers.
School-Based Health
Schools continue to experience increasing demands related to student health issues. The student health issues can be acute or chronic and have increasing complexity. Challenges exist for addressing the increasing demand for health services in schools. Schools are encouraged to submit proposals for strategies that will enhance its capacity and/or school nurses to provide comprehensive services to the students of their districts.
Resources
For resources on school initiatives, bullying, childhood obesity, and more, visit our Resources page.