School Grants and Awards Program
Creating a Healthy School Environment
American children spend a minimum of 940 and 1020 hours in school each year, which means schools can and must be the foundation for system-wide improvement in children's health.
Our Involvement
Supporting schools that show a strong focus on adopting best practices has been one of Highmark Foundation's long-standing, overarching goals. The Highmark Foundation works in partnership with schools and communities to determine what changes made within schools will bring about system-wide improvement to children's overall health.
Between 2006 and 2011, through the Highmark Healthy High 5 School Challenge, the Highmark Foundation awarded nearly 13 million dollars to schools throughout communities served by Highmark. Hundreds of school-based programs addressing nutrition and physical activity were developed and implemented with this aid. Since that time, the Highmark Foundation has continued to provide substantial technical assistance and grant funding to schools and school districts to promote lasting, positive changes in school environments.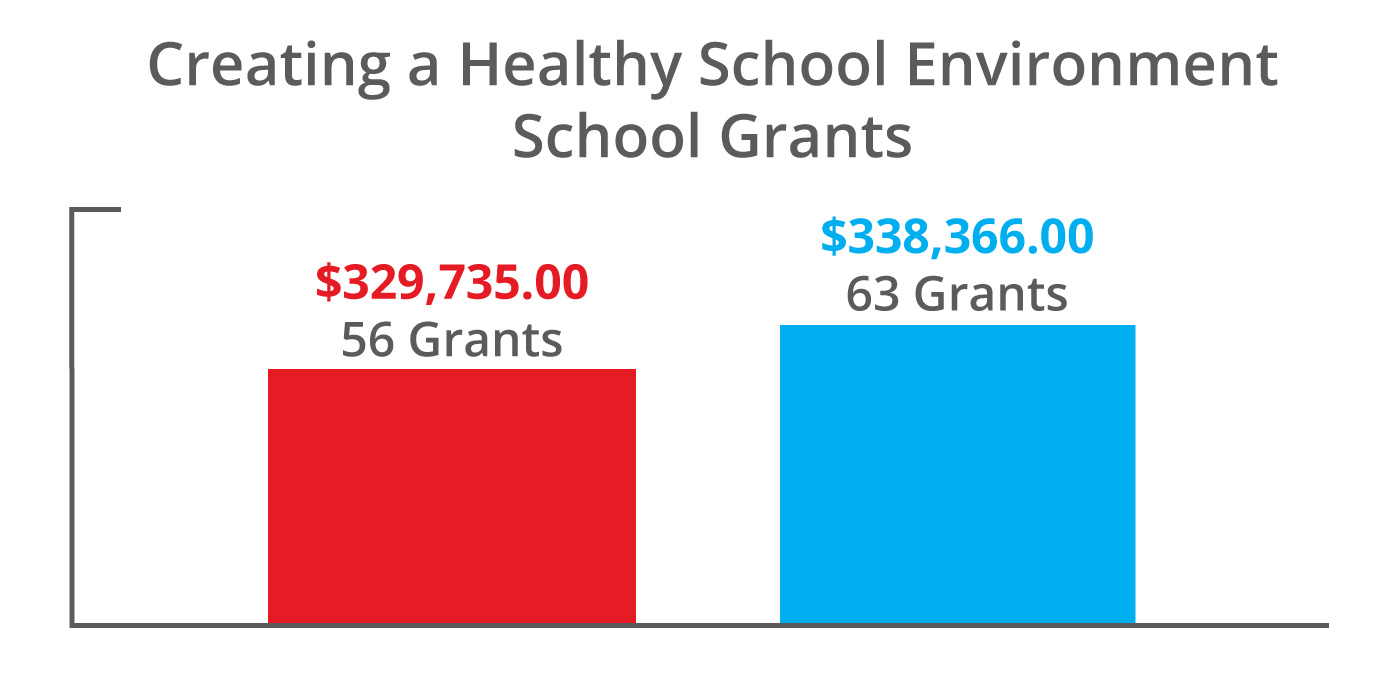 Our Goals
Highmark Foundation is a recognized leader in providing grants for schools and community-based organizations to address critical health issues affecting children. The overarching goal of our Creating a Healthy School Environment strategy is to provide support and resources that empower schools to take greater strides in improving child health and wellness.
The Foundation maintains and seeks to broaden this commitment by providing support to school districts and schools at the individual building level. Opportunities the Foundation seeks to fund include:
Professional development programs that impart timely knowledge and know-how that school leaders and others need to take student wellness efforts to the next level. For example, the Highmark Foundation School Lecture Series, approved for continuing education credits, provide fast-track learning for those interested in adopting best practices and evidence-based approaches to school health and wellness.
School recognition initiatives that highlight and acknowledge schools for making lasting, systemic change. Exploring incentives and formal recognition opportunities to foster impetus among schools to increase and deepen their efforts.
Resources and tools that can help schools implement strategies to improve children's health.
Publication and dissemination of research to inform schools about the effectiveness and impact of our work and best practices.
Grant Opportunities for Schools
Bullying Prevention
Bullying threatens young people's well-being . It can result in physical injuries, social and emotional difficulties, and academic problems. The harmful effects of bullying are frequently felt by others, including friends and family. Not only does it hurt an individual, it can hurt the overall health and safety of our schools, neighborhoods, and society. Research is continually developing that helps us to better understand bullying and prevent it before it starts.
Child Injury Prevention
Accidental injury resulting from sports and play is one of the leading causes of death and disability among children, adolescents, and young adults. The most prevalent of these are concussion and traumatic head and brain injuries, most often caused by participation in sports and activity on school playgrounds. Teaching safe practices is a key strategy for child injury prevention. Another is to promote best practice solutions for schools to assess and monitor their students and facilities with the goal of creating injury-free play and sports environments.
Healthy Eating and Physical Activity
An important factor in managing childhood obesity is ensuring physical activity is delivered in combination with proper nutrition. Other objectives include expanding children's access to health coverage and federal nutrition programs, enhancing the dietary quality of school meals, increasing the number of hours per week children are able to engage in physical activity, and improving neighborhood safety so children have safe places to play and grow outside.
Physical and Environmental Health
Schools and school districts are required to evaluate facilities for key environmental, safety, and health issues. Just a few symptoms of poor school conditions are asthma attacks, respiratory irritation, drowsiness, and headaches. Unhealthy school environments can affect students' attendance and concentration, lowering their academic performance. Ultimately, unhealthy conditions can lead to time-consuming cleanup and remediation. Ensuring that all potential environmental and safety hazards in schools are being properly managed not only improves the health of students and staff, it also demonstrates to parents and the broader community that schools are committed to the safety of students and school personnel.
Resources
For resources on school initiatives, bullying, childhood obesity, and more, visit our Resources page.