Highmark Bright Blue Futures Awards Program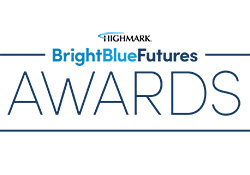 The Highmark Bright Blue Futures Awards Program is a awards and recognition program to honor outstanding organizations, programs, collaborative efforts and philanthropic initiatives that have demonstrated success in building healthier, brighter futures for individuals in our communities within Highmark's footprint.
The theme for the inaugural year is "A Look at Health Equity, Social Determinants of Health and Philanthropy to Advance Community Health." Made possible by the Highmark Foundation and as part of the accolade, grants ranging from $25,000 to $100,000 will be awarded to organizations in Pennsylvania, Delaware, New York and West Virginia. Get additional information about the awards. For questions, please email info@highmarkfoundation.org.
Submit nominations by July 10 for the Highmark Bright Blue Futures Awards.